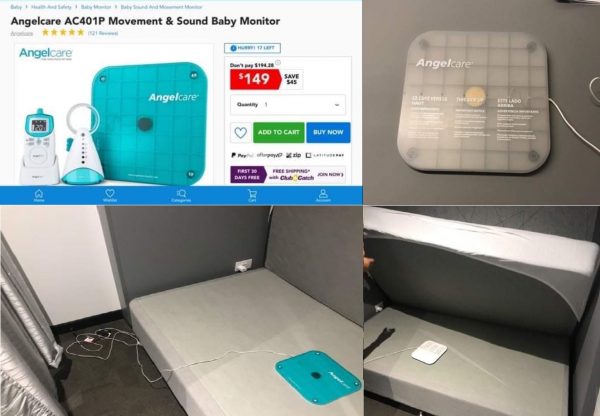 Members, The AEAWA executive were today contacted by members in relation to O'Connor depot after the discovery of FOUR devices placed under mattresses at the depot, possibly since opening.
The devices are Angelcare AC401P Movement & Sound Baby Monitors. Clearly, these devices are capable of both movement and AUDIO recording. Photographs of the devices and the locations are attached. Enquiries were immediately made to St John senior management, and the following response has been received from Operations Manager Emma Newman: "I have engaged with Property today who were responsible for the instillation of the sleep pods and devices and I have requested they provide advice on the devices in written form to be put up at O'Connor ASAP.
I can confirm the devices do not capture personal information and are there to establish whether the sleep pods are a worthwhile investment." St John have knowingly placed devices capable of audio recording in depot bedrooms, without any warning to crews using these depots, which is believed to be a direct violation of surveillance legislation (WA Surveillance Devices Act 1998). We have been assured that the devices have only been placed at O'Connor depot. HOWEVER, we would advise all members to immediately inspect their depot for any devices capable of audio recording.
If a device is found, please disconnect and place this safely in the depot office, as these devices remain SJA property. Please be assured that the AEAWA is treating this matter with the utmost seriousness, and feel this action is further damaging any trust between on-road officers and management.
AEAWA Executive​