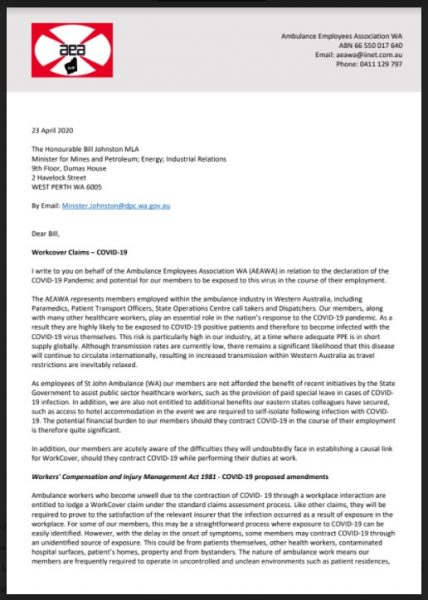 The AEAWA have recently written to the Hon Bill Johnston MLA, Minister for Mines and Petroleum Energy & Industrial Relations, requesting that the State Government consider an amendment to the Workers' Compensation and Injury Management Act 1981, to include a rebuttable presumption in favour of health care workers who contract COVID-19. Click here to view the letter.
Workers Compensation claims normally require the claimant to prove that the injury or illness was a direct result of their work.
This amendment would shift the burden of proof away from claiming member, resulting in easier and quicker workers compensation claims for our members and other healthcare workers who contract COVID-19. The AEAWA have been working closely with our colleagues at the Victoria Ambulance Union (VAU) who have themselves made a similar submission to their Attorney General.