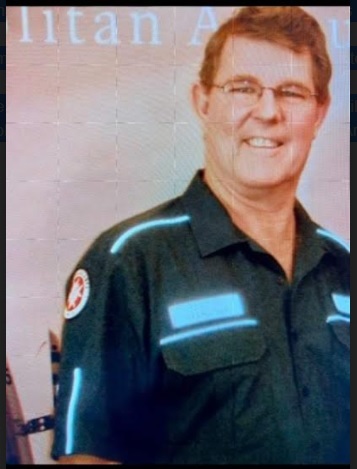 Happy 40th ANNIVERSARY WITH THE Ambulance Service
In 1981 John Thomas started his career as an Ambulance officer with the West Australian Ambulance Service, serving alongside 7 other officers who have all retired after many years of service.
John brought previous experience having served as both a Police Officer with WAPOL and with the Queensland Ambulance Service, which made him more than ready, and upon completion of his induction he was rostered to the old Central Depot in Murray Street, now the Perth Backpackers.
John's introduction to union matters started much like anyone else's. Initially reluctant to join, this changed when he was "shafted" as he puts it. This turned out to be the beginning to a largely thankless role, working tirelessly to bargain and introduce the current working conditions we all enjoy today. John's experience and knowledge in Industrial matters saw him represent the AHLMU, LHMU and UV (United Voice) for over 35 years of his working career, many as the President. John would travel interstate at his own expense to meet with other Ambulance Services, building a relationship that is strong and well respected today to ensure WA was leading not only in clinical practice, but more importantly our pay and conditions.
John is currently a representative on the reformed National Council of Ambulance Unions which sparked his ambition to move away from a Union body and establish an Association without any political ties, to serve purely for ambulance personnel.
In 2014 John succeeded in the implementation of the Association, with the support of colleagues in Victoria and South Australia, and hence the AEAWA was formed. What makes John's position and dedication a success is he is the only President of an Association that continues to work on road which has never been the case elsewhere. During John's career was one of the 'lucky ones' to work 6 years of his career out of Central depot, 6 years at Morley and a further 6 years at Osborne Park. In between he was rostered to Rockingham for '12 months' (before the introduction travel allowances) from Duncraig, hence now we have 'time and travel' payment. An early recipient of a bachelor's degree in Paramedical Science from Victoria University in 2002 and representing Western Australia, John was heavily responsible for the introduction of Tertiary Based qualification for Ambulance Paramedics in WA through the then CSHTA and was active in the process to bring Paramedicine under the National Registration scheme with AHPRA.
Throughout his career John has worked in numerous roles and in 1988 he was appointed to the Deputy Superintendent role, known previously as Team Leader and now Area Manager. John also worked as Duty Manager in the State Operations Centre and in many country locations as Station Manager. John was involved in the implementation of the Community Paramedic role and has also worked extensively in the role. John has been seconded to the College as a trainer, and can be held responsible for a large amount of us Paramedics today. John has been a lifelong mentor and worked with many students, to which he remains lifelong friends today. John's outstanding contribution to the West Australian Ambulance Service has been recognised officially, with his being a recipient of both the National Medal for Service in 1991 and the Ambulance Service Medal in 2006.
John has travelled to Vietnam with a team to look at commercial opportunities for St John Ambulance, and in 2011 he was also selected to travel to New Zealand to look at the suitability and compliance for the implementation of the iPad system for data collection. John has been recognised for his contributions in numerous situations, including many thanks form families who have expressed gratitude for his outstanding attendance. John has contributed thousands of hours to protecting, improving, and representing colleagues in need, not to mention the countless journeys to and from Belmont and the thousands of telephone calls he takes. This is all done unconditionally and never with any reimbursement of the expenses he occurs. Love him or hate him, John will always give you an honest answer and believes everyone deserves a second chance, which is a credit to his character.
Working now out of Merriwa depot as Station Manager for the last 15 years, and commencing another EBA (one of eleven) John will tell you he has seen them come and seen them go, some with promising speeches but the only thing that has changed is the Ambulances we drive and the uniform we wear. One remarkable 'trademark' in all this time is having a work ethic like no one else we know, taking only a hand full of sick days and still working the 224 throughout his 40 years…
Congratulations John, from myself Donelle, the Executive Committee and all your colleagues we wish you an incredibly happy 40th Ambulance Ambo Anniversary.
Crew:  "82 DS"
Comms:   'by the way further call, priority 3 waiting !!!!!!!!