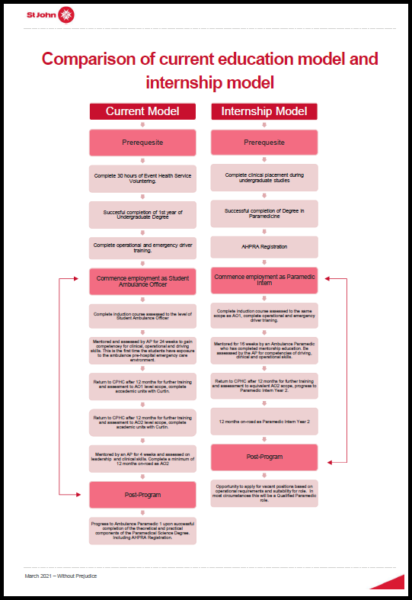 Dear members,
The AEAWA team attended the second EBA negotiation meeting today. This meeting saw the official presentation of the AEAWA Log of Claims, followed by a more detailed exploration of St John's 'Clinical Appropriate Model of Care' (CAMC) where St John sought to rationalise their plan, and explain the perceived benefits of this model. Discussions later focused on the role of CSP and its proposed evolution to 'Clinical Lead'.
For reference, you can click here to view the comparison of the current education model vs proposed internship model.
The rationalisations and perceived benefits of the CAMC model as outlined by St John so far are:
St John argue the internship model is similar to what happens in some other states/territories and in New Zealand.
St John claim the internship 'CAMC' model allows for savings in wages which would be used to fund a small number of permanent on-road CCP positions.
St John claims the internship model will allow St John to select only 'high performing' officers for permanent positions, as they will be on fixed term 2 year contracts.
St John claim the internship / CAMC model allows for 'additional career pathways'.
St John claim the CAMC will enable them to adapt to the 'clinical operating environment we find ourselves in with regards to ambulance'; a situation of an increasing level patient demand of around 5%, 'travelling further' to provide the clinical care, while hospitals remain 'static'(!), an ageing population requiring more complex care and the impact of delayed transfer of care (ramping).
St. John believe this is a unique opportunity to 'renew the service' and offer 'more nuanced care' to patient groups.
St John feel the CAMC model will provide the community with the care they need, appropriate to their situation, at the time they need for the sickest of patients, routine patients, and lower acuity patients.
St John allege time is right to change the 'one size fits all' approach to a 'tiered service'.
The AEAWA negotiation team explored many aspects and potential complications to the CAMC model, including: Just because something is performed interstate does not automatically suggest an improvement in relation to employment conditions and job security. The CAMC model will save on wages as ultimately around 50% of Registered Paramedics employed by St John will be permanently restricted to current AO Grade 2 wages (around $88,000 p/a).
This will cause:
significant downward pressure on wage growth in our industry
lower the average wage of Registered Paramedics in our state
make it harder for Ambulance Paramedics to argue for wage increases, when similarly qualified colleagues earn $25,000 less
fracture and create resentment amongst our workforce
The proposed savings will only fund a small number of additional CCP positions, possibly 2-3 per shift. These would be permanent positions and once filled will unlikely lead to any realistic career pathway for the majority of officers (how long has it been since the last CCP recruitment?)
CSP pathway already exists.
While the AEAWA will always support the creation of any new opportunities for our members, additional CCP's will do nothing to address record low response times, record low standby capacity, record numbers of priority 1s/2s/3s that have often been outstanding for tens and tens of minutes to several hours. Additional CCP's will not assist with increasing the size of our 'establishment' number of vehicles, nor make any significant impact on the care provided to the vast majority of our patients. Additional CCP's will not assist with night shift workload.
St John we're unable to identify any new career pathways, other than the ability for Ambulance Paramedics to step down to Qualified paramedics (where they would have the same skill set and obligations, but incur up to a $25,000 pay cut). St. John could not identify any way the new Clinical Appropriate Care Model changed the actual clinical care the vast majority of patients would receive, other than a handful of CCP cases attended.
St John could not indicate how the CAMC would, for instance, prevent elderly falls patients being left on the floor for hours awaiting an ambulance, while hospital transfers are given priority. St John could not detail if the cost savings obtained from the CAMC/Intern model would ultimately dwarf the outlay of the proposed CCP positions (…it would!).
The AEAWA feel this Clinical Appropriate Model of Care really offers nothing significant in terms of clinical 'nuanced' care, and certainly does not help serve the community of WA who deserve an ambulance service which has capacity to respond. Sadly it appears entirely motivated by finance, disguised as  'clinical improvement' and 'tiering', but with no effort to manage the bulk of our workload which is in fact low acuity.
The AEAWA are not opposed to strategies that improve finances if the savings are reinvested in front line responses and actual crews on road.
The next meeting is scheduled 17th March 2021 and we will endeavour to provide an update of any important developments.
St John is encouraging officers to interact with a dedicated Yammer group, so they can offer reassurances and safeguards to officers about their current conditions. We would ask our members to be mindful that often seemingly innocuous changes to our conditions can have serious unanticipated consequences 'down the track'. It is important that changes are scrutinised thoroughly, and that a balanced interpretation is presented.
We would therefore respectfully encourage our members to contact us on [email protected] and we will obtain answers on your behalf.
Kind regards
AEAWA Negotiation Team