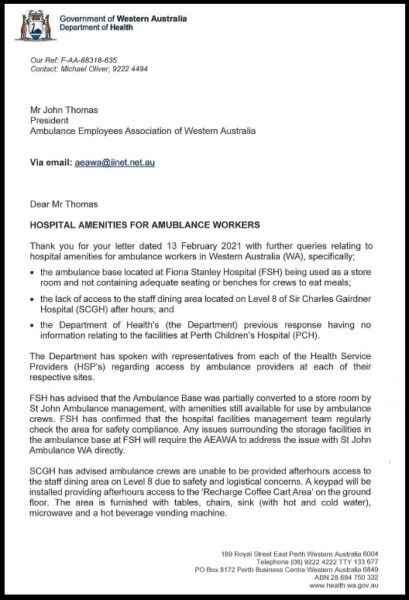 Dear Members,
On 13th February the AEAWA Executive responded to the the Director General Of Health  in relation to access to basic amenities at WA public hospitals for ambulance workers. In particular, we highlighted the following:
FSH: ambulance base being partially converted to a store room which houses unclean clinical equipment (i.e. vac mats, returned head blocks, returned carry canvas, pumps etc)
SCGH: no out of hours access to dining area Level 8, G block
PCH: no amenities available for ambulance workers
We are please to advise that the Director General has replied (attached) offering the following information and arrangements:
FSH: The conversion of the ambulance base into a store room was a St John initiative, and we therefore need to address any issues with this facility with St John. The AEAWA request that should a member find unhygienic equipment stored in this dining area they should report this to us at [email protected] preferably with photos, and consider raising an Hazard Report. We will continue to raise the unsuitability of this room for storing equipment at JCC meetings. To view the document, click here.
SCGH: access will be made available to ambulance workers at the 'Recharge Coffee Cart Area' on the ground floor (near blue lifts J/G block). A keypad will be installed to facilitate access for us. This area will be available 24/7 and will have tables/chairs/sink/microwave and a hot beverage vending machine. Please be patient while we await for this work to occur.
PCH: a 'Hub Lounge' located adjacent to the ED and accessed directly down the corridor from the ambulance entry will be made available to ambulance workers. Again, a keypad will need to be installed to facilitate this. We have been provided with the contact details of the responsible manager to ensure this happens, and will follow up in the near future.
The AEAWA will of course continue to advocate for our members and improve working conditions where possible.
Kind regards
AEAWA Executive