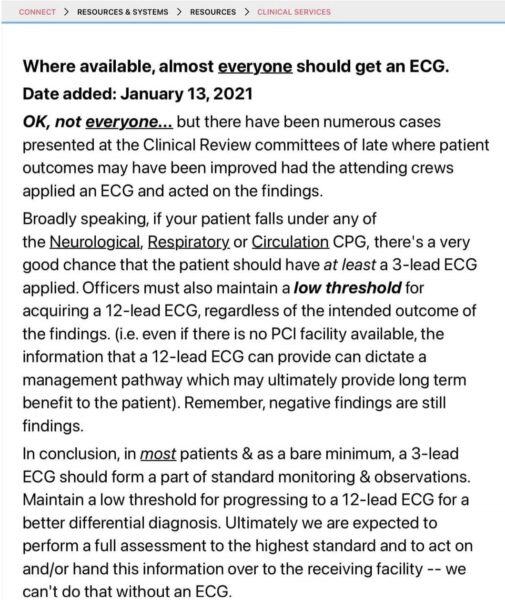 Dear members
You may be aware that St John have issued a revised SOP Patient Flow and Ramping guideline document. Despite serious objections from the AEAWA, there has yet again been no response to our attempts to engage in meaningful consultation on these revisions, and St John continue to implement unilateral changes to standard operating procedures, when it becomes convenient. This document now seeks to present so called 'multi patient care' as an accepted normal practice, in addition to outlining circumstances in which a single officer may be tasked to a hospital, to care for multiple patients.
The AEAWA see this as a major change in the role of a Paramedic/Ambulance Officer, whereby St John expect pre-hospital clinicians to perform work more closely aligned with a nursing profession.
In regards to multiple patient care, we would like our members to consider the following:
the suitability (or not) of a specific patient for 'multi patient care' is determined, as per the SOP, by a clinical 'discussion between the ATTENDING OFFICERS'. It is NOT a clinical discussion between the HLM or AM and the crews involved as they have played no part in either of the ramped patients' clinical care, nor will they play a part in clinical care going forward.
as per the SOP, certain patients 'may not be suitable for multiple patient care' including:
those affected by drugs (and/or) alcohol.
those that require one on one care or have complex needs.
patients with more complex social or medical issues that still require one on one care, for example contagious illness, potential absconders.
patients requiring 'ongoing cardiac monitoring'
It is our view that the wording is clear, the SOP indicates neither of the patients being considered for 'multiple patient care should be a cardiac monitored patient. The AEAWA committee agree with Clinical Governance in that a high degree of supervision is required for all ramped patients, and suggest that, in the period preceding thorough investigations and a definitive diagnosis, that all patients should receive cardiac monitoring while ramped.
As per the Clinical Services intranet site 'Lessons Learned' (screenshot attached) dated 13th January 2021 'Where available, almost everyone should get an ECG' which states 'Broadly speaking, if your patient falls under any of the Neurological, Respiratory or Circulation CPG, there's a very good chance that the patient should have at least a 3-lead ECG applied' and goes on 'In conclusion, in most patients & as a bare minimum, a 3-lead ECG should form a part of standard monitoring & observations.'
It may therefore be prudent to request an additional CorPuls monitor when requested to consider multiple patient care.
Kind regards
AEAWA Team